Technology has got the better of us again it seems. This time our desire for expanded promotional efforts has brought us to the world of Instagram. After learning it was not an app that provided grandmotherly advice at the drop of a hat, we decided to give it a go. So we tested things out with this tried and true logo.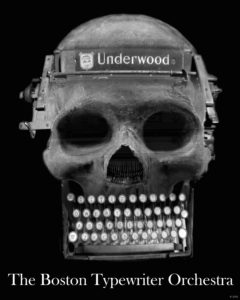 If you click on that picture it will take you right there. We've also added some visual effects on the sidebar over there >>>—————————————————————–>>>
One of those follows our pictures, the other pictures tagged with us… so if you want to show up on this website, just tag your selfies #bostontypewriterorchestra and take over that feed.